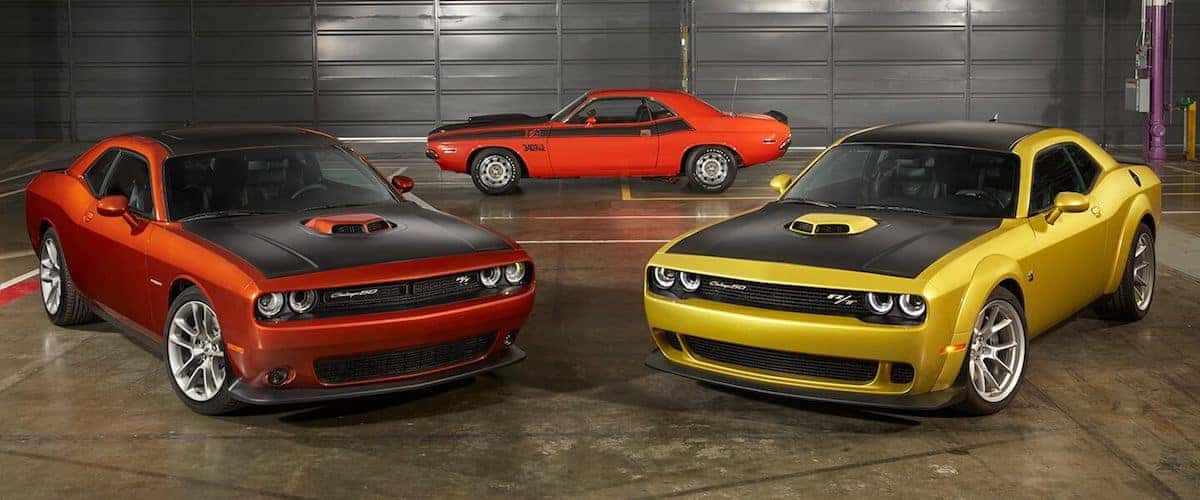 Dodge Challenger Trim Levels
---
Choose Your Weapon
Since its reintroduction to the road, the Dodge Challenger has captured the spirit of classic American muscle like no car out there today. And if you're wondering what kind of Challenger you might want, let us help you out with this handy guide to some of the exciting features of different Dodge Challenger trim levels.
Challenger SRT Hellcat Redeye
Is it possible to get a factory muscle car with nearly eight-hundred-horsepower? The answer: oh yeah. Dodge pulled out all the stops when crafting this asphalt-churning machine. Here are just some of the features you'll get with an SRT Hellcat Redeye.
A 6.2-liter supercharged engine capable of producing 797-horsepower and 707 pound-feet of torque

0-60 mph in 3.4 seconds
A white-hot 10.8-second quarter mile at 131 hair-raising miles per hour
A top speed of 203 mph
Wide-body form with twin hood scoops and a front spoiler that lets you grip the road like never before
Dodge Demon
Dodge reached into its old bag of tricks and pulled out a classic, recycling the famous old Demon moniker for this riff on the SRT Challenger. Because when the Hellcat Redeye's 797-horsepower isn't enough, you can slide into a Demon and feel 840 angry American horses beneath you.
A 6.2-liter supercharged Hemi V8 with 808-horsepower (crank it up to 840 with 100-octane, and a Demon Crate add on)
A white-hot quarter-mile time of 9.65 seconds at 140 mph (you ever hear of a sub-ten-second factory car?)
Adjustable dampers to transfer weight to the rear during takeoff, giving you more grip than ever before
A trans brake that helps you launch harder than you've ever launched
Challenger 50th Edition
Celebrating the 50th anniversary of the indomitable Challenger, the 50th Edition allows for some of the following:
A V8 or a peppy V6 with wide-body styling

Optional all-wheel-drive, allowing you to enjoy your Challenger no matter the weather
That signature blast-boom startup sound you've come to expect from a Mopar
Challenger SXT
The SXT Challenger is a great no-frills muscle car that offers plenty of fun at a low entry cost.
Your choice of several more-than-powerful-enough engines, getting upwards of well over three-hundred horsepower
Classic Challenger styling
Plenty of driving fun and thrill
Challenger GT
The most popular thing to note about the GT is the unexpected all-wheel drive.
So no matter where you live or what the weather, you can enjoy your muscle
Standard 3.6-liter V6 mated to an eight-speed TorqueFlite trans for smooth cruising
More than enough get-up-an-go

Challenger R/T Scat Pack

Mention the words "R/T Scat Pack" to any Mopar enthusiasts and watch their eyes light up. Thanks to some of these new flairs, the Scat Pack has always been one of Dodge's most beloved trim packages.

A road-hungry 6.4-liter V8
485-horsepower and 475 pound-feet of torque
Optional multi-link rear suspension giving you more control than ever before
Manual, automatic or hybrid transmission choices